Our bedrooms hold a special place in our hearts. They are a sanctuary of comfort and personal expression, where memories are made and emotions find solace. While we pay meticulous attention to the bedsheets, floor design, wallpapers, and art in our bedrooms, the wardrobe often takes up a significant amount of space and becomes an integral part of the room's overall aesthetics. Read about the 11 captivating bedroom wardrobe designs for 2023, each seamlessly blending style and functionality, allowing you to create a personalized space that reflects your unique taste.
Cronos – Minimalist Elegance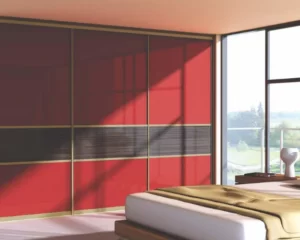 Cronos offers a modern, minimalist wardrobe design perfect for those who appreciate simplicity. Its sleek, soft-close doors, available in various matte black and bronze finishes, provide a timeless look. This wardrobe extends to the ceiling, maximizing storage space while adding a touch of sophistication to your bedroom.
Ares – Style Meets Functionality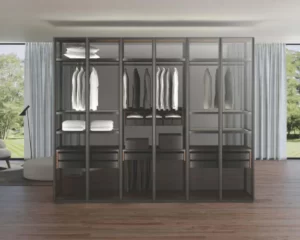 Ares sliding wardrobe strikes a balance between style and functionality. Its chic sliding doors, available in matte black and mocha finishes, are ideal for spacious and elegant bedrooms. The aluminum frame doors add versatility, making it a sophisticated addition to your room.
Juno – The Spacious Solution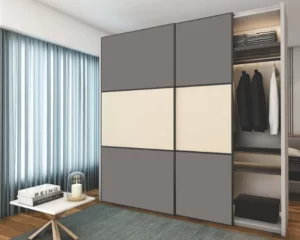 For larger bedrooms, Juno's sliding wardrobe doors offer a creative and sturdy alternative to traditional closets. With a two-way soft-close door boasting a maximum height of 3000mm, Juno brings an air of opulence to your space. The glass door frame and matte black or mocha finish with aluminum accents enhance your bedroom's elegant appeal.
Olympus – Versatile Sophistication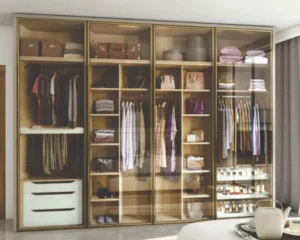 Olympus is one of Veneto's most versatile wardrobes, featuring a top-to-bottom vertical groove that doubles as a handle. Its adaptability shines in both modern and minimalist settings. You can select from various finishes, including glass, matte, and glossy, to complement your bedroom's style.
Valcun – The Unique Openable Wardrobe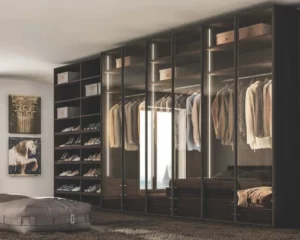 Valcun's openable wardrobe is a visual delight. It boasts Italian air hinges and a metal profile, creating a stunning impression for your bedroom wardrobe design. The 5mm glass door frame adds a touch of opulence. Valcun achieves a modern, futuristic, and sleek look with features like glass shelves, LED lights, and hanger rods.
Sancus – Ultra-Sleek Elegance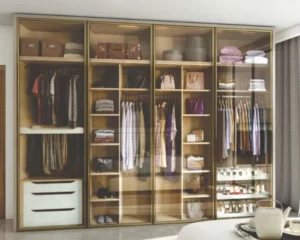 The Sancus wardrobe exudes ultra-sleek elegance. It has glass shelves, LED lighting, and sophisticated hanger rods, creating a sense of calm elegance in your bedroom. Combining inbuilt handles and 5mm glass door frames fosters a feeling of serenity and sophistication.
Artemi – Embracing Premium Materials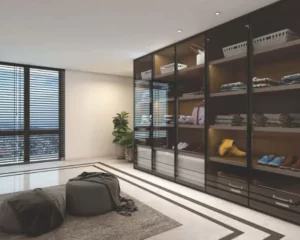 Artemi designs use premium materials such as aluminum and glass, adding style and comfort to minimalist bedrooms. The openable wardrobe profile elevates your bedroom's ambiance, offering a premium, contemporary feel.
Titan – Modern Clarity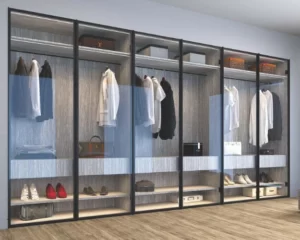 Titan presents a modern wardrobe with clear 4/6mm glass doors and a maximum door weight capacity of 50 kg. Non-obtrusive 3D adjustable door hinges and a 270-degree opening angle support the all-glass doors while ensuring your belongings remain dust and moisture-free.
SOL – Simple Beauty
SOL, with its 1200mm width and simple left and right handle profiles, embodies minimalist beauty. Its simplicity ensures it seamlessly integrates into any bedroom, offering practicality and style.
NYX – Elegant and Dignified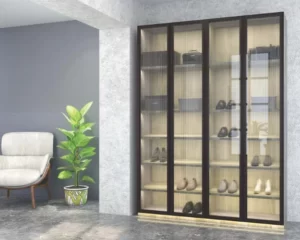 NYX is an openable frame wardrobe with a distinctive long handle incorporated into the door, adding a unique touch to your bedroom's design. With a 3D adjustable door hinge and elegant glass doors, NYX provides functionality and style, making it suitable for contemporary and modern bedrooms.
Selene – Opulent Functionality
Selene, a contemporary wardrobe, marries opulence with intelligent functionality. It boasts a 3D adjustable door hinge, right and left profile handles, a 120mm built-in handle with profile, and a 5mm glass frame profile. These features offer unmatched flexibility and style, catering to even the most discerning preferences.
As you select the perfect wardrobe for your bedroom, consider these exquisite options. Veneto, Mumbai's largest luxury wardrobe maker, offers a range of fully customizable products to suit your needs. Whether you prefer simplicity, elegance, or opulence, there's a wardrobe design for every bedroom style in our 2023 collection.