We all love to invest in our bedrooms as it holds a lot of our memories & emotions making them a space you're most connected with. From bedsheets & floor design to wallpapers & art, your bedroom is the perfect canvas to showcase your creativity. But what about your wardrobe? Wardrobes take up huge space in your room & become an integral factor of your room's overall aesthetics. Wardrobe designs should enhance the attractiveness and impact of the overall look of the bedroom, in addition to providing space to organize your possessions safely. While classic wardrobes remain popular with many homes due to their simplicity, an increasing number of homeowners desire to go beyond a standard blueprint and focus on a unique design for their master bedroom wardrobe.
The practicality of a wardrobe should be the most important factor to consider. A good design allows you to store your everyday essentials as well as those lavish dresses & designer suits you only use once in a while. At the same time, the exterior of your wardrobe has a significant impact on the overall appearance of your bedroom. As a result, having a lovely wardrobe design is a must, and that's why we at Veneto offer a plethora of options for attaining both of these key objectives in your ideal bedroom wardrobe design!
In this blog, we've covered 11 of our most amazing, practical & luxurious designs for bedroom wardrobe in Mumbai to help you make the right choice in 2022, they're as follows :
Cronos
Cronos is one of the modern wardrobes designed for master bedrooms that's ideal for individuals who prefer to keep things simple. The simplistic doors, colors, and finishes are featured in a huge two-way soft close wardrobe. The wardrobe extends to the whole height of the room to deliver optimum storage. The decorative panels are offered in matte black and bronze finishes, which contrast beautifully with light floors and add a good accent to your walls. If you're going to use black or bronze in your bedroom, make sure there's enough contrast, space, and light to make your space look clean & elegant.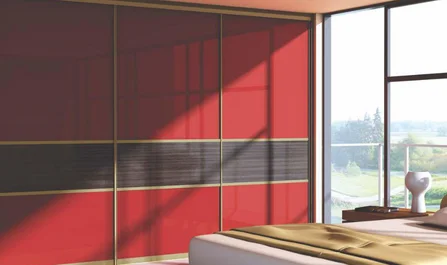 Ares
Our Ares sliding wardrobe design is the perfect blend between style & functionality. The sliding doors aren't simply fashionable; they're also ideal for bedrooms that are both large and elegant. This wardrobe has a maximum door height of 300mm and a 5mm glass door frame profile that adds to your wardrobe's elegance. With matte black and mocha finishes available, the unique sliding system is paired with aluminum frame doors that increase its versatility. It comes in a two-door and three-door package, which is a very sweet cherry on the top.
Juno
The benefit of having a spacious bedroom is a large amount of closet space that it provides. The Juno sliding wardrobe doors are quite creative & sturdy, as they keep the whole design from appearing stuffy making it an excellent substitute for the huge, traditional closet. Having a two-way soft-close door with a maximum height of 3000mm is one of the best features of the Juno wardrobe giving your bedroom a rich appeal. The sliding doors are a practical necessity for the wardrobe; the glass door frame and matt black or mocha finish with aluminum accents adds to the spectacular image of your elegant bedroom.
Olympus
Olympus is one of Veneto's most adaptable wardrobes, with a top-to-bottom vertical groove that also serves as a handle. This wardrobe works well in both modern and minimalist settings. You can choose from a variety of finishes for your Olympus wardrobe, including glass, matte, and glossy which along with Veneto's classic style, the 3D adjustment door hinge looks sleek & graceful.
Valcun
The Valcun openable wardrobe is a treat for your eyes. The one-of-a-kind openable wardrobe comes with air hinges from Italy that create a good impression in your bedroom. When it comes to building a luxury bedroom, one-of-a-kind elements like the unbuilt wardrobe handles are ideal since you know that you have something truly unique to your home that can make the entire design feel much more lavish. It has a rich and opulent appearance thanks to the metal profile and the 5mm glass door frame. Valcun's openable wardrobe features glass shelves with LED lights and hanger rods for a modern, futuristic & sleek look.
Sancus
The Sancus has an ultra-sleek style with a fresh personality to match your luxurious lifestyle. The openable wardrobe is incredibly dramatic and elegant, with glass shelves, led lighting and sophisticated hanger rods that exude a sense of calm elegance. A clever combination of inbuilt handles and 5mm glass door frames gives offers a calming space whenever you want to get ready.
Artemi
If you don't believe in an openable wardrobe our Artemi bedroom wardrobe will make you think again. You'll note that a lot of luxury bedrooms use aluminum and glass as significant wardrobe components & our Artemi wardrobe adds style and comfort to a minimalist bedroom using these premium materials. The openable wardrobe profile is a great way to give your bedroom a premium feel.
Titan
Veneto's Titan is a modern, attractive wardrobe with Veneto's distinctive clear 4/6mm glass doors profile. It has an amazing openable wardrobe design and a maximum door weight capacity of 50 kg along4 with non-obtrusive 3D adjustable door hinges with a 270-degree opening angle support for the all-glass doors. Titan gives you the impression of an elegant wardrobe while keeping dust and moisture out of the storage area. The Titan wardrobe,
SOL
SOL is a 1200mm wide, basic, beautiful, and modern wardrobe with left and right handle profiles. Its design simplicity is SOL's most admired aspect. SOL is one of Veneto's most versatile wardrobe systems, with a profile length of 2900mm, and a door thickness of 18mm, which allows it to suit any bedroom flawlessly.
NYX
Elegant, efficient, and dignified. Veneto's NYX wardrobe is an openable frame wardrobe with a distinctive, long handle incorporated into the door, giving it a distinct look. The door hinge has a 100-degree opening angle and a unique 3D adjustable capability. With its functional design, this wardrobe can be used in both contemporary and modern bedrooms. It can be difficult to locate your belongings within the wardrobe, so NYX's openable glass doors resolve the issue with their elegant designs.
Selene
Selene is a contemporary wardrobe that mixes opulence with smart functionality. The Practical & premium elements offer unrivaled flexibility in arrangement and can suit even the most stringent requirements. The wardrobe comes with a 3D adjustable door hinge and a variety of other features, including right and left profile handles, a 120mm built-in handle with profile, and a 5mm glass frame profile.
We hope after this blog you're more confident about selecting the right wardrobe for your bedroom. So if you want to buy the best modular wardrobes in Mumbai, Veneto is the place to go. We've partnered with some of the world's most prestigious luxury brands to deliver high-end, completely customizable wardrobe elements to India. We offer a fully customizable product range to select the materials, sizes and finishes that best suit your needs. We've effectively developed a niche for our products among discerning clients throughout the years. Our talented design team understands your ideas and creates designs that are specifically designed for you.