Have you thought about replacing your old wardrobe but aren't sure if you should spend the money on a new one right now? It's time to take a look at your current furniture, home, and lifestyle to see if you can part with your old wardrobe.
Knowing you're making the right decision for you and your family, it'll allow you to shop for a wardrobe with a clear mind. Choosing the ideal wardrobe for your home, on the other hand, is never an easy task. Don't worry, we're here to assist; here are four major indicators that it's time to update your wardrobe.
In this blog, we'll go over four of the most prevalent indicators that show it's time for you to upgrade your wardrobe. We've also provided examples of attractive wardrobe solutions in our bedroom wardrobe design catalogue to help you update your current setup. Read on to find out when (and how) to update your wardrobe.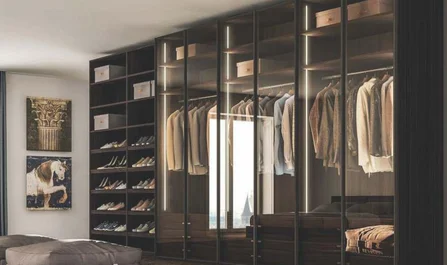 YOU'VE RUN OUT OF SPACE IN YOUR WARDROBE.
If you run out of clothing space, you may believe there isn't much you can do. Modern and creative wardrobe designs, on the other hand, allow you to maximize your current space without having to expand your wardrobe.
Create a personalized openable wardrobe design with shelves, drawers, shoe racks, and other space-saving accessories to make the most of your wardrobe space. It's a clear and simple way to increase storage without knocking down walls or remodeling your home.
THE DOORS ARE BROKEN.
After years of use, it's natural for your wardrobe to require repairs. Rather than repairing these elements (or completely ignoring the problem), it may be time to install a new wardrobe. If you have an updated wardrobe, you won't have to worry about damaged hinges or wheels becoming stuck in their tracks. What could be better? Sliding Wardrobes now have easy-to-install and technologically advanced hinges and rollers thanks to advancements in creativity and craftsmanship. These rollers have a longer lifespan and perform even better than older mechanisms.
The advancement of technology has introduced us to easy-to-install and technologically advanced hinges and rollers for sliding wardrobes, that have a longer life span and work even more efficiently than the older mechanism.
YOU REQUIRE MORE ROOM IN YOUR BEDROOM.
Did you know that the appropriate wardrobe might assist you in saving space in your bedroom? If your present wardrobe is large or has hinged doors that open outward, you might want to think about replacing it with a sliding wardrobe that takes up less room.
You can reach anything in your closet without opening a door if you have one of these wardrobes. As a consequence, you'll have extra area for furnishings and a clean route to peruse your wardrobe's contents. To save even more room, you can replace your full-length or floor mirrors with a mirror wardrobe.
YOUR WARDROBE HAS AN OUTDATED STYLE
Although being useful, an outdated wardrobe may give your bedroom a dated appearance. It's time to swap out your old wardrobe with a contemporary, attractive one because it might ruin the appearance of your bedroom as a whole.
Veneto can work with you to design bespoke modular wardrobes in Mumbai that fulfill all of your requirements. We're here to help if you need additional shoe storage, hanging space, or a safe location to put your jewelry. Our friendly staff will work with you to determine what you want from your wardrobe and will provide personalized solutions to fit your budget and lifestyle.
If just looking at your wardrobe doesn't give your eyes pleasure, there may be another option. With these indicators, you'll know that a bespoke wardrobe would make your life so much simpler. At Veneto, we can also design the ideal walk in wardrobe designs in India for your room based on your lifestyle and personal preferences.
To learn more about the unique wardrobes we construct, contact the skilled team at Veneto. Get in touch with us to schedule your design consultation.