From entering our offices to knocking on the boss's door for putting an application for leave (which is always scary), office doors sustain a lot of usage during their lifespan and are the first impression of an office when people enter. That's why it's critical & often quite difficult to select the perfect office glass door that can withstand harsh use & still make a good impression. Well not to worry as a framed glass sliding wardrobe design is one choice that offers you the best of both worlds. Whether the frame is on the surrounding wall or on the door itself, incorporating framed doors in an office design may help to prevent fingerprints, increase natural light, and provide a variety of unique options.
An office setting is significantly different from a typical home situation. In contrast to your home, a workplace has a vast crowd and infrastructure. With a predominance of glass and metal construction, the doors must also look office-appropriate (preferably of glass & not wood). Office glass door designs are created specifically for business establishments, with size, security, and standard compliance in mind. Thus these doors must be both useful and beautiful in addition to being utilitarian for your office. They are also available in regular sizes or can be customized for individuality.
Well, guess what; glass sliding wardrobe doors help you overcome all these troubles. Here 5 things that make them ideal for your office decor:
Reduce those annoying fingerprints
The potential of a glass door to display fingerprints left behind after usage is a typical issue when selecting one for the workplace. When installing a framed glass door, individuals may use the frame to open and close the door.
The frame on the surrounding wall also serves as a place for staff to rest their hands. This hugely aids in the reduction of fingerprints on the real glass which genuinely nobody likes. Framed glass doors can also be self-closing, which lowers the marks of fingerprints even more!
Support a Variety of Configurations
Hinged framed doors may be configured to fit a variety of wall layouts, allowing for maximum personalization. They can easily be fitted into either straight or curved walls.
Another option for accommodating varied layouts is to adjust the height of the door to your unique requirements. Only the height of the divider limits the height of framed glass doors, allowing you to build lavish offices or meeting rooms in big areas.
Adaptable Solutions
Today's modern offices are quite unique and sophisticated. Gone are the days when office spaces were the typical cubicle types, thus adaptable solutions are required for today's modern offices. Framed glass doors come in free swing or self-closing types. To meet the specific demands of your business varied types of glass are available, such as tempered, laminated, low iron, or LCD glazing.
Framed glass doors can also be placed as a pair to accommodate broader entrances giving that lavish feel to the room. They also complement glass dividers and may be fitted into solid walls.
Customizable Design
Another advantage of using framed glass doors for your workplace is the opportunity to personalize the glass. You can be confident that the glass will represent the style and values of your workplace, whether you pick clear, patterned, or incorporate a bespoke graphic.
True Natural Light
Allowing natural light into an office environment has a number of advantages for employees. Natural light has several advantages, including lowering seasonal blues, enhancing mood and productivity, and improving sleep. A glass door, whether in a glass partition system or a solid wall office architecture, enables more light to enter the room.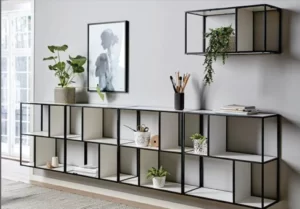 Here are some Factors You Consider Before Purchasing an Office Door
Following these recommendations will help you pick the appropriate door for your workplace, whether it's for a co-working space or a complex building for a reputable firm:
The importance of security in the workplace cannot be overstated. You must ensure that the door provides the best possible security against unwanted intruders and potential dangers. Hence you should make sure that the locking mechanism of the glass doors is sophisticated and tamper-resistant.
Building safety standards apply to all commercial buildings, including doors. As a result, you must guarantee that the doors are long-lasting, fire-resistant, and meet all regulations. They must also be energy efficient and maintain a workable & cool temperature inside.
Nobody likes to hear unwanted noises while working on a major assignment, thus it's necessary to soundproof the entire office space to improve efficiency. Soundproof doors with smooth shut and open options are required for privacy. They must guarantee that private information is kept within the four walls of the facility.
In addition to providing the above characteristics which improve the working aspect of the office, the doors must also mix in with the natural aesthetics of an office environment. To make your workplace more appealing, the doors must have a unique & classy appearance that fits well with your decor.
Veneto build framed glass doors and modular wardrobes in Mumbai that blend nicely with our glass partition solutions as well as solid walls. With unrivaled customization choices, you may design the ideal workplace atmosphere with simple access and departure. Check out our website & book a consultation today to build the best glass doors for your office.