If you're looking to refurnish your bedroom, then you should focus on prioritizing your wardrobe as it's often skipped by many homeowners. Wardrobes can improve or detract from the aesthetics of your room and are an essential part of your day-to-day life making them the most important piece of furniture in your room.
However, most of you might be confused while selecting a wardrobe design for your room. While traditional wardrobe designs offer great functionality they're out of style for modern homes. That's why we at Veneto offer custom sliding wardrobe doors that not just look aesthetic but also do a great job in fulfilling your storage needs. Our luxurious bedroom wardrobe design catalogue offers a wide range of sliding door wardrobe options to choose from as per your specific needs.
That's why in this blog we'll cover the benefits of Sliding wardrobes and why should you choose them over traditional wardrobe designs.
Benefits of Sliding Wardrobe Doors: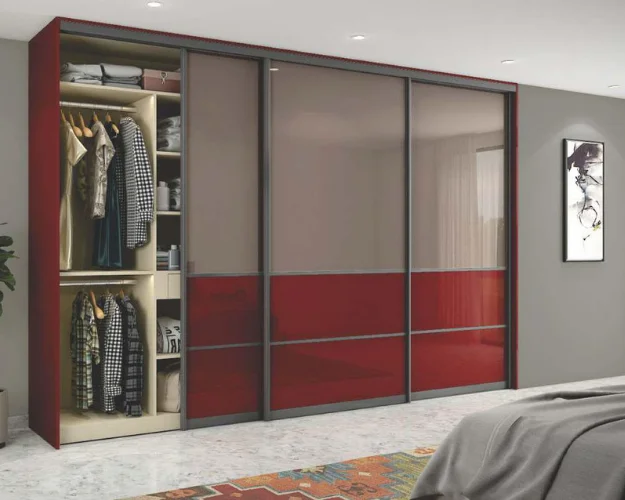 Saves Space
Sliding wardrobe doors save space because they open sideways and do not require prior space clearance. However, this does not preclude them from being appropriate for large bedrooms as they can be custom-made as per your bedroom's size. Moreover, as sliding doors lacks hinges, you can install two-way soft-close doors for a more luxurious look.
Offers a timeless and modern look
One significant advantage of sliding door wardrobe designs is that they provide a broader range of material options, including clear and colored glass finishes. At Veneto, we offer you freedom to customize every aspect of your doors to perfectly portray your personality.
Boosts property value
Installing a high-quality ceiling-to-floor sliding wardrobe can boost the value of your home. Mant families look for modern designs while purchasing a home and installing sliding wardrobe doors makes your home more desirable if you plan to sell or rent it in the coming years.
Customizable Storage options
You can add plenty of storage accessories to your sliding wardrobe to increase internal space. Our team of expert designers helps you select the right type and number of wardrobe accessories to further improve your storage space.
Environmentally friendly
In the case of Veneto, all of our doors are environmentally friendly because we only use recyclable materials (aluminum/glass), and all waste is recyclable. Mass-made traditional wardrobes, on the other hand, are typically made of wood or wood products, which aren't sustainably sourced and have a significant impact on the environment.
Highly Durable
A wardrobe, along with a bed, is one of the most frequently used pieces of furniture in the bedroom as you'll most likely use it at least once a day. Fortunately, Veneto sliding wardrobe doors are made of high-quality materials, so you won't have to worry about the general wear and tear caused because of daily use. Not having flimsy hinges also prevents you from having problems opening and closing your wardrobe doors while offering great safety if you have children in your home.
Limitations of Traditional Builder Wardrobes
Higher Space Requirements
Although the ability to use the corners of your bedroom maximizes space, traditional doors take up significantly more space when opened. This makes them feasible for use only in large bedrooms that don't require a lot of space clearance when the doors are opened.
Limited door width
Compared to Wooden or Glass sliding wardrobe doors, traditional hinged doors have a limited width to avoid putting too much strain on the hinges. The hinges are deemed to strain beyond this dimension, resulting in mechanism failure.
Difficult to Install
Traditional wardrobe doors are significantly more challenging to install than sliding wardrobe doors. This is because it requires a lot more precision and fixtures, whereas sliding wardrobe doors only require tracks and wheels.
High Costs
The installation process of hinged doors is quite costly due to their labor-intensive nature. It also takes longer to install door hinges when compared to sliding wardrobe doors. Furthermore, due to the door width restriction, openable wardrobe doors are small and must be used in more significant numbers to cover the wardrobe opening. As a result, the hardware and material costs for openable wardrobe doors are higher.
Conclusion
By now, you should have a good idea of what wardrobe door would perfectly suit your bedroom space and style. If the sleek design, contemporary look, and functionality of sliding wardrobe doors have won you over, we can help you take the next step.
Veneto provides bespoke sliding wardrobes and helps you build the perfect modular wardrobe in Mumbai with numerous customization options. You can begin designing your wardrobe with our designers or browse our door styles first. So feel free to give us a call if you require additional assistance selecting a Custom Wardrobe design for your home!