Regarding modern interior design, staying up-to-date with the latest trends can be challenging and costly. The constant need to update or replace furniture pieces to match the newest aesthetic can be overwhelming. However, there is one piece of furniture that can make a significant impact on your interior while maintaining its appeal for years – your wardrobe.
A modern lacquered glass wardrobe design offers both functionality and customization options, and Veneto is here to help you create a glass wardrobe design that is not only contemporary but also a perfect reflection of your personality. Let us explore the benefits of glass wardrobe designs and showcase seven exquisite options crafted by Veneto.
Benefits of Glass Wardrobe Designs
Glass wardrobe designs offer several advantages that make them a popular choice among homeowners:
Easy Maintenance:
Glass doors are easier to clean than traditional aluminum or wooden wardrobes, ensuring a lasting shine and appeal.
Space Efficiency:
Mirrored glass options turn your wardrobe into a full-body mirror, saving space and enhancing the overall aesthetics of your room.
Room Illusion:
Sliding glass doors create an illusion of more space, making your room appear larger and more open.
Styling Options:
Glass wardrobe doors provide a wide range of styling options for the wardrobe's interior and exterior, allowing you to personalize your space.
Veneto's Glass Wardrobe Designs
SKY: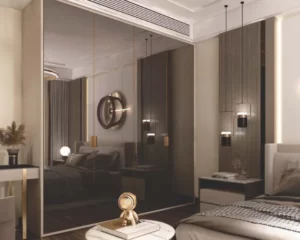 Inspired by royal and contemporary designs, the SKY openable glass wardrobe design features premium mirrored glass that exudes sophistication. It comes with an aluminum sticking-style shutter profile in an openable frame, available in Matte Black or Brush Gold finish, offering a subtle contrast to the mirrored glass.
MIA:
Designed for luxury enthusiasts, the MIA openable glass wardrobe boasts a Matt Black or Brush Gold finish and beautifully placed air hinges. This wardrobe seamlessly integrates your fashion sense with your room's interior, showcasing your style and personality.
UGO:
The UGO Glass sliding wardrobe combines modern design with timeless classic aesthetics. Available in Matte Black and Brush Gold finish, it features a two-way soft-close design and offers extensive customization and storage options
TITAN: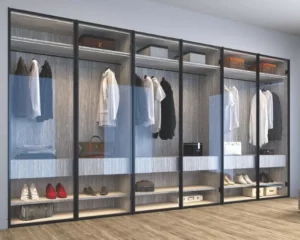 The TITAN Glass wardrobe exudes elegance and blends perfectly with your bedroom's personality. Its openable design provides ample storage and comes in Matt Black, Brush Gold, and Rose Gold finish, creating a harmonious contrast between modern culture and functional design.
DIOR: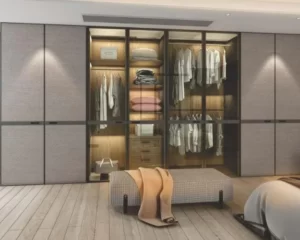 With its timeless design, the DIOR openable wardrobe bridges modernity and tradition. Lightweight glass doors in Matt Black, Brush Gold, Gentle Grey, and Mocha Brown finish link traditional aesthetics with international functionality.
ARTEMI:
Designed to provide a serene, simple, and contemporary experience, ARTEMI features Italian-made door hinges with 3D adjustments. Its openable profile oozes luxury, offering a light and spacious design that makes a statement without going over the top.
EPONA: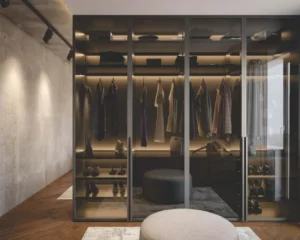 The practical and visually pleasing EPONA wardrobe maximizes space without sacrificing modernity. Its functional design balances tranquility and complexity, creating a relaxing dressing environment. It includes Air hinges, Glass shelves with LED lights, and Hanger rod options.
Veneto offers a range of beautiful and functional glass wardrobe designs that elevate the interior of your bedroom. With easy maintenance, space efficiency, room illusion, and styling options, glass wardrobe designs are a smart choice for any modern home. Explore Veneto's extensive catalog of sliding and walk-in wardrobe designs to find the perfect glass wardrobe for your home. Contact us today to design a custom and modern glass wardrobe that suits your unique style and needs.