Previously, wardrobes were the primary method of storing various items. However, as bedroom interior designs have advanced, various wardrobes for the bedroom have emerged, adding to the decoration of your room. Today's situation is that without a modern Master bedroom wardrobe, the room would appear incomplete because the mess would be completely visible. The wardrobe designs available today now provide you with additional amenities, but they also contribute to the decoration of your rooms in a unique way.
With so much information available about wardrobes and their designs, sorting through it all and determining what works best for your bedroom is difficult. Home designs must be refreshed every couple of years, and the same is true for bedroom decor. Allow Veneto to guide you in your choices with the latest trends and ideas if the coming year will necessitate a wardrobe transformation.
Most popular bedroom wardrobe designs today
Trendy designs are unquestionably those that are contemporary. They can be found in most homes that are used to complement interior design and decor. You can get creative to make your wardrobe an elegant statement piece, whether it is all glass, with sleek/rimless frames, or a combination of textures. Wardrobes are more than just functional; they also reflect a homeowner's design aesthetics. There is a strong preference for classical and early modernist designs, with wood finishes and old intricately designed handles that appeal to those who appreciate classic styles.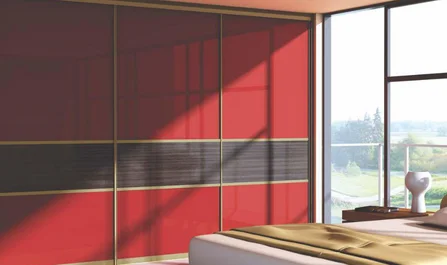 Must have compartments/shelves in any wardrobe
Wardrobes must contain a few key compartments and the rest must fit the wardrobe's style. One of them is a very good mix of room for hanging shirts, coats, skirts, dresses, and sarees. It is also necessary to have a stacking area for tees, bulky items such as winter gear, or rolled-up blankets. Depending on your belongings, you might have to choose from mid to long hanging places, as well as little shelves to stack casuals. To have quick access to the back corners of the wardrobe, drawers are an important feature as they are extremely convenient to use than having shelves at lower levels. You can customize different depths of drawers for certain compartments. Little drawers for inners/delicates and small trays for accessories/watches. If you prefer a neat pile of clothes, you'll need larger drawers, as well as one at the bottom level for unusual storage boxes and formal / party shoes to complete the look of your closet.
Most ideal wardrobe doors
It is entirely dependent on the size of the room and the amount of floor space available. The most common and easiest to use are hinged doors, but they require more space. For a small wardrobe in a small room, folding or a wooden sliding wardrobe is a better choice. To save space, one can always consider removing the closet doors and have an open wardrobe. This, however, comes with the extra challenge of keeping everything neat at all times.
Ideal wardrobe size
As appealing as it may appear to build a large closet that will fulfill one's growing needs for the next decade, it is necessary to keep in mind that the bigger the wardrobe, the less space the bedroom will have for other furniture or accessories. This is particularly important in a small bedroom, where building a wardrobe along the entire length of the wall makes the room appear cramped. Decide on all of the furniture you'll need in the bedroom – the bed, desk, side tables, and chairs – to get a rough idea of how much floor space you'll need to make room for the wardrobe.
Wardrobe designs based on gender
Because men and women look so different, it's no surprise that their clothing and personal accessories are so different. A closer look at closet storage strategies and techniques will ensure that there is a proper and agreeable division of space in the closet that a man and woman share.

Incorporating mirrors in wardrobe doors
Fitted wardrobes are an excellent way to save space while also providing convenient storage solutions. When space is limited, it is critical to make your living space appear as spacious and comfortable as possible. Mirrors can deceive the mind into believing that a space is larger than it is. By angling mirrors to a specific focus point, you can create the illusion of depth in your room. Mirrors are extremely effective at reflecting natural light around rooms. It makes the room feel more relaxed and promotes more natural light, especially in a glass sliding wardrobe. With natural light bouncing around several times, using a series of mirrored wardrobes can help even more.
So here you have it- everything you need to consider before designing your dream wardrobe. But even with such an easy explanation, it can be confusing to decide what exactly your bedroom needs and that's where VENETO helps you to design your dream custom wardrobe.
So if you want to build a Modular wardrobe in Mumbai that meets your specific storage requirements then you're at the right place. At Veneto, we build custom wardrobes that meet the needs of modern homes and complement the décor of your bedroom. Reach out to us, to help you build the wardrobe of your dreams.