Frameless glass doors have become very common in modern offices, hotels, and commercial buildings. This trend is slowly being followed in modern homes as well with many families installing a Frosted Glassdoor to better manage their spaces. Luxury glass doors can turn any ordinary room entrance into a modern, luxurious spectacle, and designers are now preaching the glass gospel to their homeowner and developer clients.
Internal hinged or sliding doors made from single sheets of 8mm frameless toughened glass offer a lot of style and versatility. At Veneto, our designers help you build the perfect aluminum frame glass door for your home as per your requirements. That's why in this blog, we'll tell you why frameless glass doors are so popular and some creative ways in which you can use them in your home.
What makes frameless glass doors so popular?
Internal frameless glass doors are becoming increasingly popular for a few key reasons. They're durable, provide privacy, and take less space than walls due to their sleek design. So, why not give them a try in your home? They're easy to clean and maintain and will significantly impact your home's energy efficiency. Plus, they'll add a touch of luxury and sophistication to your space.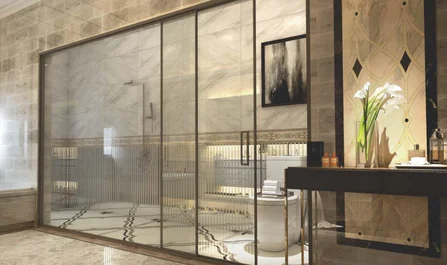 Advantages of Frameless Glass Doors
Internal glass doors allow for more natural light, which is perhaps the most apparent design advantage. Another advantage of glass doors is that they "open up" any room or space. It's a simple optical illusion: clear glass makes the room appear larger than it is. This is an excellent alternative to open-plan designs, which can add unnecessary cost and complexity.
Frameless glass interior doors can also be partitioned spaces without blocking light or obstructing views as part of a glass wall. They are a natural choice for showers, wall partitions, and any other space that requires a continuous glass look.
A Lacquered home and office glass door design is simple to clean and maintain. They don't need to be painted or stained; you only need a mild glass cleaning solution and a cloth to keep them clear and sparkling clean. Another advantage is that frameless sliding glass door can be toughened or laminated by glass processing experts. If you don't like the modern look of a clear glass door, there is an alternative, which is a Frosted glass door design. Frosted (or sandblasted) glass doors provide privacy while letting in plenty of natural light, offering you the best of both worlds.
Various applications of frameless glass doors:
Frameless glass doors can be installed almost anywhere in the home. They're commonly used by homeowners as:
Bathroom doors
Many bathrooms lack free space and are compact in nature. Glass doors, which can be frosted for privacy, help to alleviate this. They are also suitable for ensuite bathrooms where there may be insufficient space to open the door into the bedroom.
Alternative to wooden doors
These are better suited to communal areas like lounges, dining rooms, kitchens, home offices, gyms, and indoor swimming pools to add a touch of elegance and class.
An Entrance for Walk in Wardrobes
These are useful when space is limited. A walk in wardrobe designs India or a closet with frameless glass hinged or sliding doors solves the space problem while stylishly displaying your precious collection.
Part of a glass wall/partition
Our stunning glass walls are Ideal for larger spaces that can be divided for better space management. Designers can quickly create an ensuite by dividing a large bedroom with sandblasted glass walls and an integrated frameless door. Luxury spaces such as a home gym, indoor swimming pool, or library are some other places where they can be used.
What frameless doors does Veneto offer?
Aeolus
Light, elegant, and pure; these glass doors are ideal for adding a personal touch to offices or homes. With Aeolus, the subtle beauty of glass is used in service of cutting-edge technology and limitless customizations to improve your decor and utilize every square inch from your kitchen to the bathroom and living room. Aeolus door ranges are available in full-height versions (hinged or sliding glass doors) with a visible or hidden track. The possibilities for customization are nearly limitless with transparent, opaque, and frosted glass designs available in various finishes.
IRIS
IRIS frameless doors have several advantages over traditional hinged doors, including a more modern design and available space. These doors can be installed in any room of the house, including the bathroom, kitchen, and living room. IRIS frameless door has a minimalist and light design making them ideal for integrating with your walls and making your room more spacious. Our IRIS frameless doors are available with a handle lock or magnetic latch, they are flush with the wall and do not have jambs or frames.
Conclusion
Internal frameless glass doors are becoming increasingly popular for a variety of reasons. These doors are perfect for any business or home, from stunning design to eco-friendly features. Not to mention, they provide excellent insulation and privacy. and Modular wardrobe in Mumbai for your home and office. If you want to impact your business environment or home dramatically, internal frameless glass doors are a perfect choice! Schedule a call to book an appointment with us.