Aside from making your living area more functional, room dividers are useful additions. If you think of room dividers as walls, you're mistaken; they're actually panels, and their principal role is decoration. If you share a living space, privacy might be difficult to come by in a year spent entirely at home. And for others whose living rooms doubled as offices and schools, the border between work and home life grew increasingly hazy. Both necessitate innovative solutions, and a glass partition design allows homeowners and apartment residents to adapt their current floor layouts to accommodate the situation.
A room partition is a useful (and elegant!) design decision whether you have a huge living area or simply wish to separate your apartment. There are several innovative methods to divide a space, ranging from embellishing a divider with wall art to constructing a library wall. Make the most of your space while maintaining your privacy!
If you want to have room dividers, you must first decide what type of glass door design you want for your living room. The rule of thumb for selecting room dividers is the same as it is for purchasing furniture. You must ensure that it complements the theme of your living space as well as the furnishings. When purchasing room dividers, there are three critical factors to consider. These are the material, color, and construction methods.
Below are twelve common uses for a room divider.
Creates a cozy space
If you are dividing a large room, you can create a separate cozy sitting space by including a room divider. Install a glass room partition against the wall, add small tables and chairs in front of it, and create your cozy living space.
Dividing the space
The primary function of room partitions is to separate rooms from large spaces. For example, if you have a shared living and dining space, you may separate the two by adding a room partition. As a result, a wall divider maximizes space usage.
Alternative Wall
Sometimes a huge area merely requires the addition of a wall to generate extra work or living space, but the expense of installing a wall is too expensive. A room partition, particularly one that is six or seven feet tall, may create a rapid and relatively affordable additional wall, generating more office or living space.
Making a workspace
Since it has been a year of working from home, room partitions have come in handy for establishing a comfortable work environment. These unobtrusive room partitions can give much-needed solitude for workstations in your homes.
Used for closet space
In order to maximize your space in the bedroom you can install a room partition to segregate a closet space. If you don't have space for a separate dresser, room partitions can provide all of the storage you need while taking up no space at all.
Used for decoration purposes
It is preferable to choose a partition that can operate as both a decorative piece and a functional area divider. One approach to accomplish this is to employ a variety of colors and textures. A nicely detailed room divider will offer a sense of privacy without obscuring your view.
With all the uses that you know no, let's introduce you to Veneto's room partitions
Vesta and Venti room partitions create discrete yet open zones to offer spaces a feeling of definition and separation without interfering with the 'open plan' feel of any living space. It completely encloses separate areas without restricting light and sight lines. These emphasize the symbiotic relationship between usefulness and design. The rich matt black and brush gold finishes add true elegance to the soft closing room partitions at Veneto. The synchro system in Turkey has a heavy-duty aluminum top track profile and a sturdy roller assembly with bearings that assure smooth sliding silent operation, and long-term dependability. The Veneto partitions are used for rooms, wardrobes, and hall partitions to keep the areas separate leaving the floor plan elegant as ever.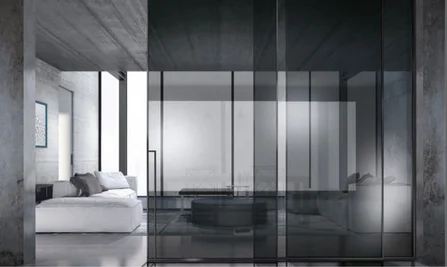 Veneto's significant design effort yields high-quality practical room walls with an unrivaled outstanding finish. Veneto has effectively established itself as the leader in room dividers, backed up by excellent after-sales service. Along with our room partitions, we also provide a remarkable collection of modular wardrobes in Mumbai that are made with the same high standards of quality and attention to detail as our room walls. Our modular wardrobes are made to smoothly integrate into any bedroom, offering plenty of storage while enhancing the decor of your home.
Also, we have an exquisite selection of glass shelves that are ideal for adding a touch of refinement and elegance to any space in your house. Our glass shelves are made from high-quality materials and are intended to be both attractive and practical.
Today, a Veneto consumer can expect well-designed functional items that are tuned for steady performance. Visit our website for more info about us.