Wardrobes are an important piece of furniture in every home, they tend to dominate the look of the entire room. Ideally, the wardrobe should utilize space as effectively as possible. The word 'wardrobe' comes from the French garderobe. The wardrobe is a piece of furniture with a captivating history and has advanced to turn into an integral part of the furniture of any room. Before the invention of the modular wardrobe, individuals put away their garments in chests, however by the twelfth century, well-off nobles required more space to store their fine outfits and robes. The wardrobe was essentially a room loaded up with cupboards and storage spaces, and the independent wardrobe didn't occur until some other time.
The nature, style, and state of your wardrobe can impact the whole ambiance of your living space. The right openable wardrobe keeps your room perfect and clean, yet it additionally accelerates your work prep and can make it even simpler on choosing what to wear.
An Openable wardrobe design has doors that are connected to the wardrobe using hinges. The doors can open at 90-degree, which makes it very simple to reach the contents of your wardrobe. You have the alternative of installing racks, chests, or drawers, to make more extra room for your belongings. For any room and wardrobe space, an openable wardrobe can be the ideal choice for varied reasons. Accessibility is the main benefit of openable wardrobes. An openable wardrobe can be swung open to reveal the whole wardrobe. This enables easy storage of large, bulky items, particularly at ground level and it increases light inside the closet.
One of the significant advantages of openable wardrobe plans is the absence of a track as doors are affixed to a door frame. Any room with wooden floors, particularly classic wood floors, will benefit from hinged doors unlike sliding doors because tracks don't have to be affixed to the floor to allow the doors to function.
Have classic openable wardrobes made a comeback?
There is a wide range of options available when it comes to wardrobe. These days we have different color options, and material options and can choose different style doors for different needs. There are so many varieties for the wardrobe door, but if we look for the best options, sliding wardrobe designs and hinged doors stay on the top. Although sliding doors are a new concept compared to openable ones.
Our Openable wardrobe design is still the preferred choice by many. They were designed for convenience and style quotient. Wardrobe shelves are an ideal option when you need to find space for items like folded t-shirts, jeans, sweaters, and more. Use decorative storage bins and baskets to keep smaller items like socks neatly organized. The stylish appearance is another benefit of openable wardrobes. These doors can be fixed with covered-up hinges, and the handles for opening and shutting the doors can be customized; some doors have hand slots rather than knobs.
How to design the perfect wardrobe?
– Assess the space to fit the wardrobe.
– Finishes that you want to use.
– Accessories that you want to use for the storage of your belongings.
– Having a storage goal to ensure your wardrobe meets your requirements.
So here are some of Veneto's amazing Openable Wardrobe Design for you to take inspiration from:
The exceptional design reflects elegance and comfort. Quality custom storage solutions mirror one's decision of style. These wardrobes have air hinges that are made in Italy. Gaia wardrobes are available in brush gold finish. Has inbuilt glass shelves with hanger rods. The Max Width of this wardrobe is 1800 mm and the max height is 2400 mm.
Kratos category of wardrobe is an organized work of art. This category of wardrobe is very unique, it is a glass wardrobe with a wooden back panel that makes your living more desirable and luxurious. This wardrobe is a perfect example of lifestyle and luxury. It has a maximum width of 1800mm and a maximum height of 2400mm.
Titan wardrobes are quite impressive when it comes to practical space and aesthetics. Richly crafted wardrobe balances style and storage, an ideal fitting into the most relaxing space- your bedroom. This openable wardrobe has Door hinges with 3D Adjustment and with a Maximum door size of H 2900mm x W 700mm.
Valcun has a sleek design and allows you to display all your fashionable outfits and exquisite accessories. It comes with open squared outlines, strong metal frames, with wooden frames that create a stylish look. It comes with an inbuilt handle and door frame suitable for 5mm glass. The air hinges used for the door are made in Italy.
With a thoughtful design that creates ample space for storage, the Olympus type of wardrobe changes workmanship to aestheticism. It is not just an expression but a feeling that characterizes the elegant architectural design. This has a door weight capacity of 30kgs, with an opening angle of 100.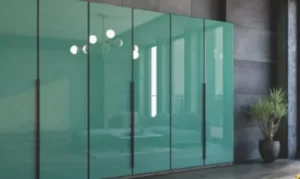 A masterpiece that promises elegance and sophistication, a visual panache that consolidates the sheer brilliance of contemporary and stylish wardrobes. These wardrobes are flexible and of premium quality. Our doors have 3D door hinge adjustments. These come with an in-built handle of 1200mm.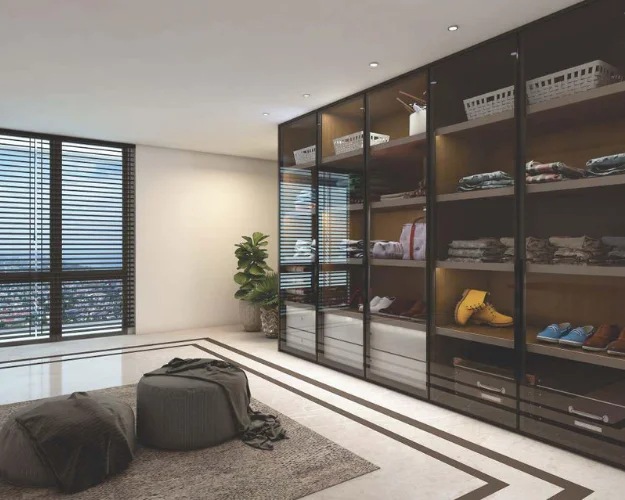 There isn't anything more fulfilling than transforming a space with innovative items, through stylish openable wardrobes. Hinges are made in Italy with a 200mm inbuilt handle with the profile. The doors of these wardrobes have an opening angle of 100 degrees.
Why Buy Veneto's Openable Wardrobe?
Veneto is an Indian manufacturer of modular wardrobes in Mumbai– built on innovation, quality, and durability. Our designs define your style, every wardrobe has the highest standard of craftsmanship and design, crafted using cutting-edge equipment and technology. We have the expertise of fine craftsmanship to deliver stylish, aesthetic, and highly functional solutions.
Explore Veneto's unique wardrobes to take inspiration for your dream wardrobe from Veneto.