The business industry, as well as economic sources, are fast developing in today's world. The world, on the other hand, does not receive any additional space. As a result, we're cramming everything we have into the minimal area available. This is one of the most pressing issues in today's world. If you're having trouble figuring out how to provide your office staff privacy while yet allowing them to work independently, glass is here to save the day! Our Office Glass door helps you to create an appealing yet professional atmosphere with their "see-through" benefit giving your employee enough privacy along with a modern look. Veneto offers a wide range of office glass door designs, room dividers, and even little capsule-like rooms known as cubicles for your office. Using glass doors helps you deal with a variety of challenges that most modern offices face, so here are some challenges that will be resolved with the 'modern' glass frame doors/ room dividers.
The Challenge of Space
Today's businesses face the difficult task of maximizing space in an increasingly crowded world. Finding extra legroom becomes increasingly difficult as square footage becomes increasingly scarce with new people getting hired every day. Thus you need to learn how to adjust to new people in your office space effectively without causing claustrophobia among your employees?
Here's where glass doors and glass partitions for living room come into play. They not only make an office appear and feel larger, but they also reduce wasted space & they are easier to maintain and use in comparison to wooden doors. Designers and their clients can avoid common design issues by replacing traditional office doors with glass walls and doors. It means more openness in private workspaces and conference rooms, as well as in previously taboo areas such as hallways or other tight spaces that lack the clearance zones required for swinging wooden doors. They can make all the difference you need in an era when every square foot counts.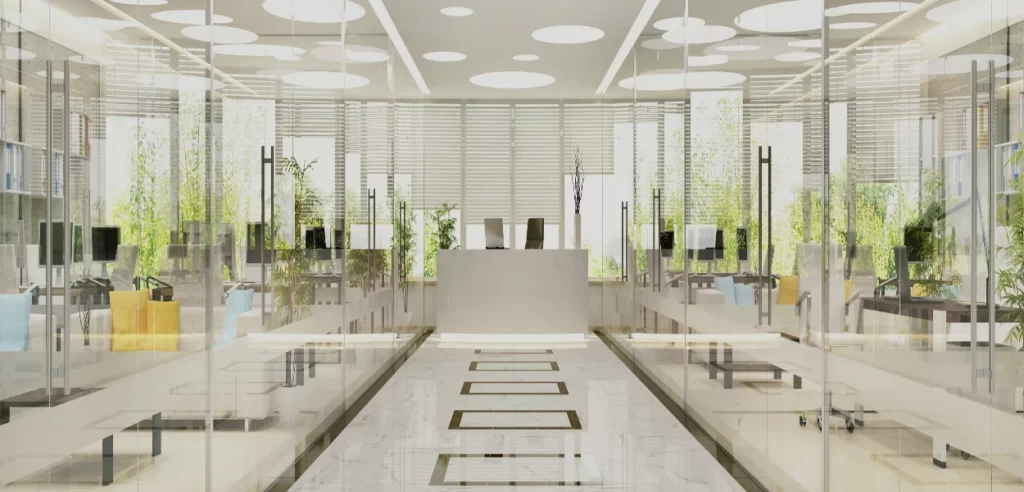 The Challenge of Light
When space is limited, light becomes a valuable commodity. It's difficult to get natural light into the deep nooks and corners of an office room, especially in Mumbai, where office buildings span over a vast piece of land. The only other option is to install a large number of pricey lighting fixtures. For many executives and entrepreneurs, this becomes a deal-breaker. Natural light, which has been shown to improve mood, enhance health, and increase productivity, is no substitute for electric light (of any kind).
Then there's the concern of energy expenses. Unless you can find a means to bring sunlight into the deep, dark corners of your office, it costs a lot of money to illuminate an otherwise dull office. The simplest method to do this is to use glass partitions and our office glass door to replace solid, light-blocking walls. With a simple change of materials, you can create a brighter and more pleasant work environment.

The Challenge of Privacy
Employers are becoming more aware of the advantages of glass as time goes on. As a result, the popularity of glass office walls and doors has skyrocketed. Some people are still concerned about questions like: What about your private space? What about echoes? etc. The finest thing about each glass door and partition is that it can be tailored to specific requirements. A frosted glass door or partition across the middle of a large room is a typical style. Employees benefit from plenty of light and visibility without having to deal with the complete openness that comes with full transparency.
Getting Used to Working in a Glass Office
Every employee & large company embraces a well-designed glass office as they add a touch of modernity & class. Every company has its own set of issues to deal with like: health, privacy, productivity, energy costs, sustainability, transparency, and collaboration, to name a few.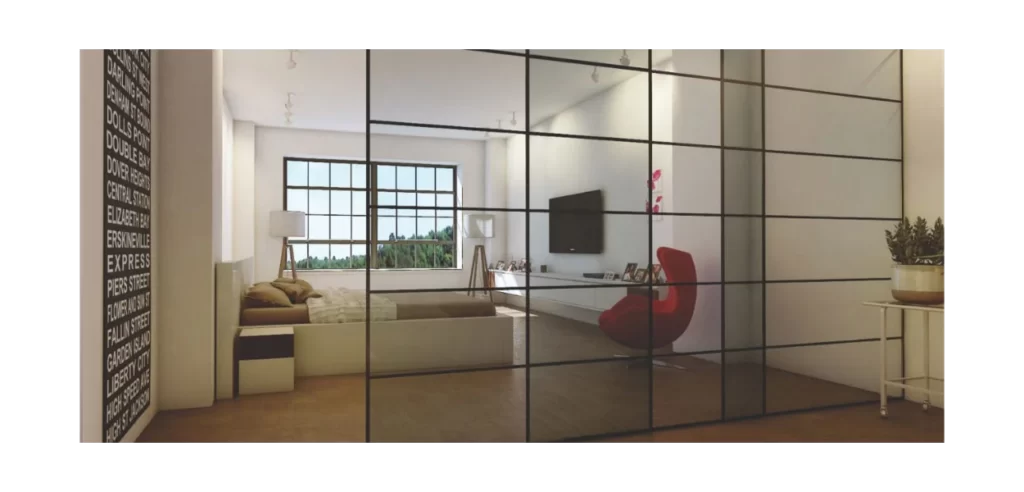 The popularity of glass doors and partitions is owed to the fact that they meet a wide range of requirements. Glass is the only material that allows you to strike a balance between factors like privacy & openness, teamwork & individuality, aesthetics & economics. Glass allows you to save space while yet having a large design, which is why the glass office is here to stay.
If you too face these challenges in your office we suggest it's time for you to switch to glass windows as they'll help you a lot in the long run. If you wish to learn more about them & their benefits click here to read our blog on the benefits of our office glass door.
Now that you know the importance of glass windows it's time for you to get them & Veneto helps you build the best modular wardrobes in Mumbai. We offer some of the best glass door & partition designs in Mumbai with a number of customization options available to choose from. So what are you waiting for? Give us a call or book an inquiry today to get the perfect glass partitions for your office.