When someone says Modern Wooden Sliding Wardrobe furniture, most people think of it as futuristic furniture designs made of new and fancy materials. However, this isn't the case nowadays, especially when it comes to wardrobes. Over time, modern wardrobes have evolved into more user-friendly and appealing pieces of furniture that are appealing to every age group. Though a wardrobe is used to store clothes it plays a significant role in making your room stand out.
Modern wooden wardrobe designs have started gaining popularity again in recent years. Wooden wardrobes are the most reliable, appealing, and durable wardrobes one can ever have. With new custom wardrobe ideas always emerging, the fusion of wooden wardrobes and modern designs is loved by all types of homeowners. Furthermore, they can be designed to meet a variety of modern needs whilst delivering an elegant and modern look.
Finding the perfect balance of style and functionality while selecting a wooden sliding wardrobe design isn't an easy task. Wood can transform the mood of a room or an entire house as part of nature-connected interior design, creating a homely, inviting feel and a truly 'organic' sense. So if not done properly it can significantly impact the overall aesthetic of your room.
Why do you need a wooden Sliding wardrobe for your home?
Wardrobes are an important piece of furniture in your home because they help keep things organized. Everyone has their ideas and thoughts about a bespoke wardrobe, and Veneto has a large selection of wooden wardrobes that would be ideal for you. A well-constructed, fully customized wooden sliding wardrobe not only solves your storage problems but also enhances the inner beauty of your bedroom.
Most prefer wooden wardrobes because they last a long time and have a classy appearance. Even though a wardrobe is used to store clothes, a large wooden wardrobe with additional can store multiple accessories and other household items. Wooden wardrobes can completely change the mood of a room or an entire house, giving it a homely, welcoming, and truly 'organic' feel. Wooden wardrobes have had a special relationship with our home for many generations, and the legacy continues. That's why Veneto has made a list of the most appropriate wooden wardrobe designs for modern homes.
Various types of wooden Sliding wardrobe
Cronos utilizes luxury mechanisms to achieve a smooth, soft-touch feel with a seamless finish and appearance. The interior of these wooden sliding wardrobes depends on the design and size you prefer. They are typically divided into more than one section and have a spacious hanging rail, closet racks, and a two-way soft close door. The smooth sliding feature could be ideal for everyday use and could be used in any modern bedroom.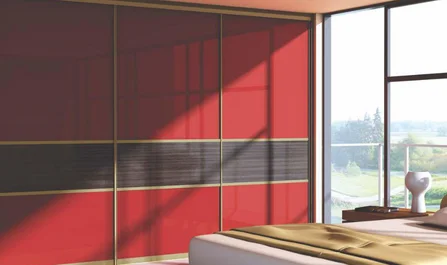 If you need an updated storage solution, Helios is an excellent choice for your home. The decorated glass panels unquestionably improve the appearance of the wardrobe. They are ideal for large spaces in your home because they increase the space's functionality. Helios allows you to create separate sections for each of your items. You can have drawers to keep essentials, hanging rails, shoe racks, and other similar accessories. Lock option wardrobe designs are also available in matt black and bronze finishes that keep your possessions secure in style!
The best feature of the Zeus wooden wardrobe is that it gives the impression of more space in the room and reflects a lot of light. Because high gloss surfaces are so stylish, they can make your room appear larger, while racks in the wardrobes can be used to store a variety of items such as accessories, bedding, and more. The glass finish, as well as the wooden finish, is customized to fit your particular space. It also comes in two-way soft close doors which enhance the appearance of your wardrobe.
This Liber wardrobe exudes contemporary luxury and an unrivaled lifestyle. Its doors are commonly available in 20/25mm thickness. To maximize storage space, we help you install wooden racks and drawers inside the wardrobe. Our team designs custom wardrobes to fit the dimensions of your room. These designs can have a 2900mm length, and a handle size of 1200mm from the bottom of the profile, with a right or left sliding door option available as well.
We understand that your home is your palace, and how you dress can make a huge difference in your comfort level. You may have looked through some of the wooden wardrobes and liked some of the designs. However, if you want to build a unique modular wardrobes in Mumbai then we are your go-to choice! Veneto's unique designs are evident in every wardrobe we develop, allowing us to create the best products that cater to your needs.
We provide an end-to-end service for every wardrobe that we build. Our team specializes in custom-made wooden wardrobes making it possible for you to create personalized designs that meet your specific requirements. So give us a call today to bring your ideas into reality and build your dream wardrobe.