The use of glass partition walls is one of the new trends that is catching on in homes all over the world. Instead of opting for costly remodels and time extensive installations, our Glass Partition For Home helps you remodel your house. They can be used for a lot more than just commercial spaces, and they might be a good match for your residential needs. We will look at some of the best reasons to use a glass partition for living room:
Utility
One of the many benefits of a glass door partition for living room is their versatility and ease of installation. They could be used to create a glass door leading to the pool or your terrace. They could be used to create a separate space in the kids' room so that each child has their area. If you have partitions in your home, you can easily take them down if you wish to. Because they aren't permanent, you won't have to worry about getting tired of your layout after a few years.
If you hired a construction crew to come in and add actual walls to your home, removing them later would be a time-consuming and expensive task. This problem doesn't arise in the case of a glass partition design living room that can be easily moved to a different place if necessary. If you were to move, for example, you might want to keep the glass room partitions, which is often possible.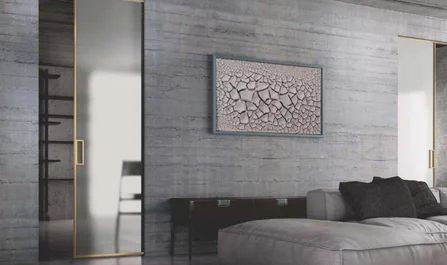 Excellent Design
Glass partition walls for homes offer a blend of functionality and aesthetics. There are a variety of styles and finishes available, as well as different options for doors and openings and even different glass colors. This means that you will not have any trouble finding a solution that works with your décor style.
Our modern partition for living room is available in a variety of options. From a simple black frame with clear glass to brautifully frosted or smoked glass, we have something for all. Thus selecting the right living room partition can eloquently enhance the beauty of your home.
Improves natural lighting in your home
Think about the amount of light that would be lost if actual walls were built in places where glass partitions could be used. Because you'd be blocking out a lot of natural light, you'd have to use more electricity to keep the various rooms well-lit. Thus a living room partition design allows natural light to freely flow throughout your space.
You can choose an option other than clear glass for your living room partition if you want less light and more privacy in certain areas. Milky or frosted glass, for example, will let in some natural light while also providing privacy.
Useful for Distinguishing Spaces
For one reason or another, the layout of your home may not be ideal for your needs. You may discover that it would be more effective if you could separate certain areas from one another. It's also a common issue for homeowners with more traditional floor plans.
A Living room glass door design can be used to divide rooms if they are required. Perhaps a divider or partition between the kitchen, dining area, and living room would be beneficial. Perhaps you'd like to designate a meditation area in your bedroom or create a workout space in your basement or garage. It is much easier to accomplish this with our living room glass divider and partitions.
Consider using Veneto's glass partition design to make an office space where you can focus on your work or a room where you can relax and enjoy your hobbies. They are a simple solution to the problem.
Additionally, the partitions can be used to create storage areas, which will help to keep the rest of the room clutter-free. Glass wardrobe doors may even be available for your bedroom. Utilize our glass partition for living room India to improve your home layout.
Cost-Effective
Installing glass partitions is far less expensive than installing actual walls, even if you already have multiple glass partitions throughout your home. The labor and materials used by remodeling companies are both quite expensive. You will have to pay to have the walls removed if you decide later that you no longer want them.
Our living room partition glass design options are easy to install and remove without causing any structural damage. They are far less expensive than a traditional remodel that requires the construction of walls, and they will create far less of a mess and inconvenience.
How does a Glass Partition Design improve your home?
Whether you need to divide a large room into several smaller rooms, create an office, or install a large glass sliding wardrobe that leads out to a terrace, there are many options available.
Consider your needs, take measurements, double-check them, and then start looking into your options. It could be an excellent way to get the look you want in your home without breaking the bank. Examine the available options and choose the one that best meets your needs.
If you too were considering installing room partitions in your home, we hope this blog has helped you make the choice. We also help you create modern office glass partition designs for all types of space. So if you're looking to buy the perfect glass room partitions, you're at the right place! We at Veneto offer high-quality & intricately designed glass room partitions and build the perfect modular wardrobe in Mumbai. Our talented team not only helps you design your room partitions but also helps you in the installation process providing an end-to-end service.
So what are you waiting for? Give us a call today to meet our team & design a custom Glass Partition For your Home today!